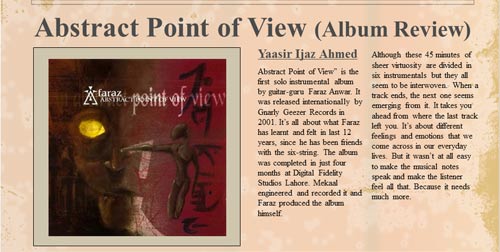 Artist: Faraz Anwar
Album: Abstract Point of View
Release Date: December 2001
Record Label: Gnarly Geezer
Rating: 5 stars
"Abstract Point of View" is the first solo instrumental album by guitar-guru Faraz Anwar. It was released internationally by Gnarly Geezer Records in 2001. It's all about what Faraz has learnt and felt in last 12 years, since he has been friends with the six-string. The album was completed in just four months at Digital Fidelity Studios Lahore. Mekaal engineered and recorded it and Faraz produced the album himself.
Although these 45 minutes of sheer virtuosity are divided in six instrumentals but they all seem to be interwoven. When a track ends, the next one seems emerging from it. It takes you ahead from where the last track left you. It's about different feelings and emotions that we come across in our everyday lives. But it wasn't at all easy to make the musical notes speak and make the listener feel all that. Because it needs much more
virtuosity to express things without words. It's easier to relate to songs because they have words, which can be understood by every human being but everyone cannot feel instrumentals. For all the listeners who can feel music, this is a package of ultimate delight. But this is a bit different from the rest because it's "Abstract Point of View", so aptly named.
Through The Passage Of Time:
In this instrumental, Faraz takes you on a journey through the time. At times, time makes you growl and at others it may be on your side, but you never know. It's about how you mature and learn through the passage of time. What you want and seek? What you lose and gain?
Maze:
Everyone comes across a maze, at least once in a lifetime. When darkness prevails everywhere and you're left all alone. You just open your eyes and feel that you are lost in the maze. As soon as your consciousness returns, you try to find your way. You start finding your path slowly and then you run with a hope that it might help. Sometimes when you feel that you've got your destination, there is the beginning of another maze. It never ends and nothing happens. You become hopeless and feel like crying and all of a sudden these cries turn to screams. You curse everything. In the end, you are calm leaving everything to your fate because you tried your level best but this didn't pay off.
Prophet:
The praying pays off and a prophet comes along. This prophet is not a messenger of Allah. This might be any of your friend or soul mate. He growls at you, yells at you for the things that you had been doing, were not right. The way you were trying to solve your problems were wrong. But you make him realize that you tried your level best. He caresses you. With the passage of time you start trusting & confiding in him. He bucks you up when you're right and points out when you're wrong. And then you become at harmony with him.
Don't Let Your Spirits Die:
It's a song of hope. The guitar provides you with the energy to carry on. Because life is a game of nerves and all you need is to never give up.
Last Summer:
There was something very special about last summer. Although it was hot, but still it was the coolest of all. Every note portrays freshness & joyfulness. He was so happy. The sense of achievement he had last summer is hard to express in words. It was surely a heavenly feeling, something really out of this world. It was so romantic, so full of colors, so full of satisfaction and so full of love. The memories he is going to cherish and treasure all through his life.
Why?:
Why is full of questions, questions of survival, existence, desolation & demise. This is a tale of helplessness like why did it happen, why only to me, why is it so, why couldn't it be the other way round. It shows the restlessness of the soul who wants the answers to all the Whys. At the start, the synthesized bagpipes & birds' chirping creates an ambience full of sadness.
This may not be what Faraz wanted to express and this may not even be what you might feel. This is what I felt. One thing that's special about Faraz is that his music has a lot of universality. And that means anyone can relate to his music. For most of the observative and sensitive people, this might be exactly what they needed to mould their thoughts into expressions and be converted into a piece of art. His music is highly ambient. The very first note he picks, takes you to that special atmosphere where he wants you to accompany him. The compositions are highly infectious and there are very much chances that you might get addicted to them.
Faraz uses some very unorthodox methods of combining the scales. The scales shift a lot through each instrumental. A lot of musicians tried their hands on this thing, but during this there are very few musicians who along with this, succeeded in capturing the listener. But Faraz seems very successful in this.
The album displays his intricate riffing and at places the guitar passages are slow, giving just the right feel to that part. The stress is not merely on lightning-fast arpeggios and techniques, the ambiance is always there. Faraz himself has synthesized the entire album.
The keyboard parts, the synthesized bass and drums are fully representative of his musical pyrotechnics and compositional skills. The pieces of music in this CD will grow more on you with each listening because it cannot be perceived in just one sitting. It's not to be listened as backdrop music to your routine work. It needs to be listened in a dimly lit room with your ears tuned to the stereo.
Leave a Comment