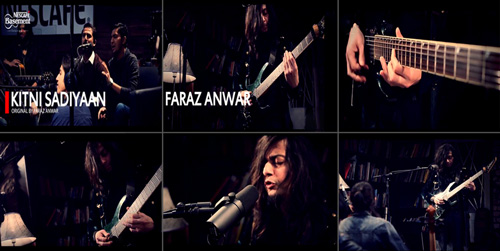 Kitni Saadiyan feat. Faraz Anwar – Nescafe Basement – S04E08 – Finale
Music Produced by : Xulfi
Season finale of NESCAFÉ Basement is a celebration of the talent, effort and the love for music of the youth of Pakistan. We present to you Nescafé Basement's largest ever ensemble of 21 young talented musicians honoring one of the most inspiring and accomplished guitarists of Pakistan. December 1990, a young boy of 14 picked up the, never to put it back. With true passion, he decided to dedicate his life to master the art of playing the guitar. And since then he's never looked back.
Today, he's arguably the best guitarist not only in Pakistan, but across South Asia. Acknowledged and awarded by a scholarship from Berklee College of Music, USA on his outstanding musical achievement in 1996, he's the only artist from Pakistan to be signed up by global record labels (US and Finland) for an instrumental album release "An Abstract Point of View" in 2002. But his most important achievement is the fact that he has inspired thousands of people to pick the guitar up and learn the craft in a vocalist dominated world. Respected by one and all throughout the music fraternity, today we celebrate his two and a half decades of love, effort and dedication towards keeping music alive in Pakistan. Today we celebrate Faraz Anwar.
Video
Continue Reading 'Kitni Saadian feat. Faraz Anwar – Nescafe Basement'